Home Sweet Home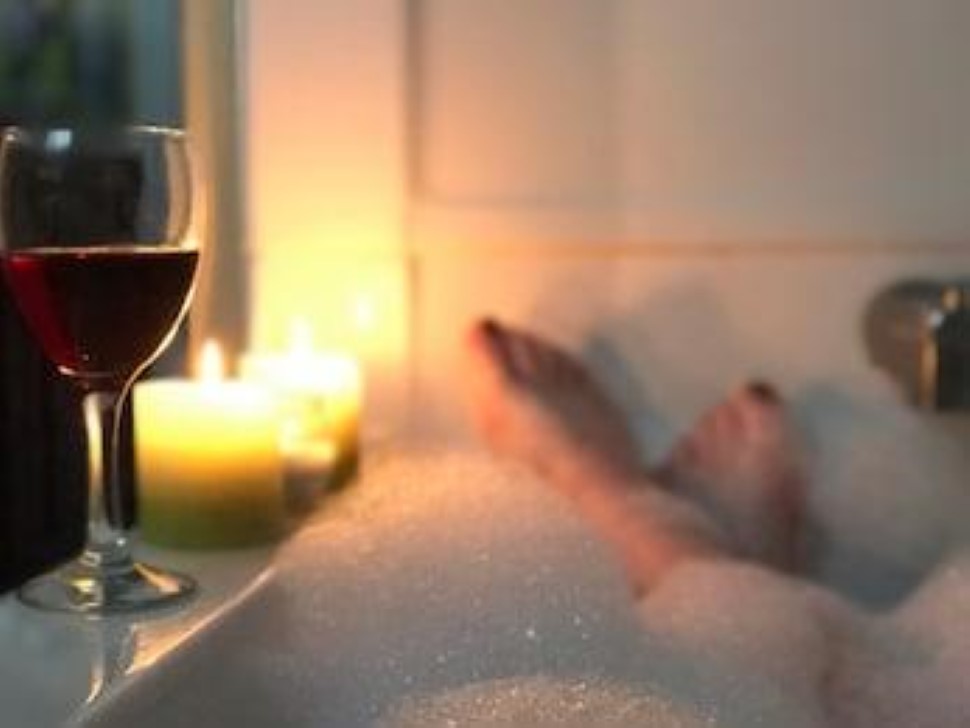 Indulge Yourself in a Perfectly Relaxing Bath with these 18 Steps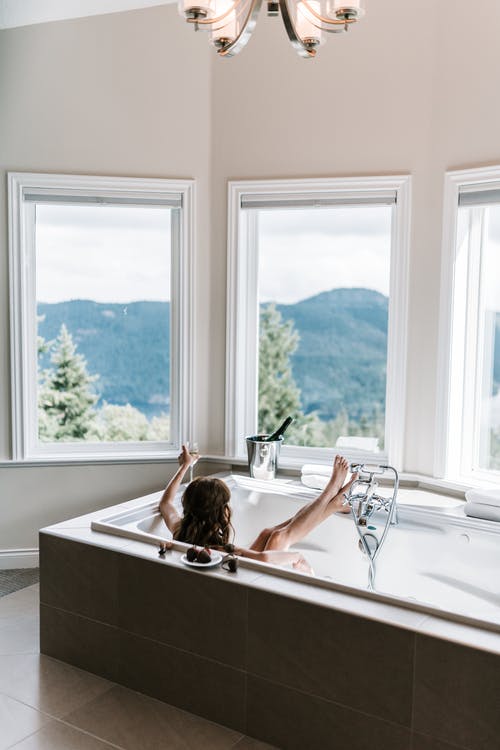 Who needs a spa if you can have one at home? Did you know that you can get rid of all the accumulated stress from a frantic day or a hectic week by preparing a relaxing warm bath, that is if you have a tub of course.
Whether you're home or happen to be in a luxurious hotel, having a bathtub around is an attempt of indulgence and luxury. Yes, bubble baths are amazing. During the current lockdown, if you're struggling with online studying with the kids, sitting all day in front of your laptop for work, or just feeling like hitting the wall alone at home, why not give yourself a warm bath.
If you are already familiar with bubble baths or you've heard about its soothing effect, and if you feel like trying it tonight, here's how you can create the perfect ambiance for a relaxing bath with these 17 simple steps. Give yourself some quality time:
1- Forget about your phone:
First, before anything else, unless you're using it to watch your favorite movie, ditch your phone. It's your private time. But you'd better claim your whereabouts, to the people living with you in the same house and ask them not to disturb your luxurious therapy moment, and to those who worry about you if you're absent for a while.
2- Light: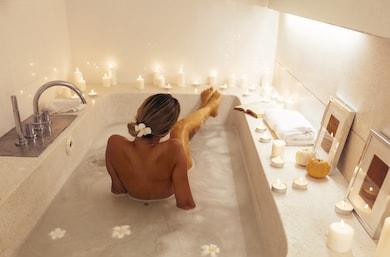 Spas provide a peaceful ambiance for their clients. They focus mainly on the light. So try lighting candles around your bathroom and of course dim your bathroom lights.
3- Music:
What is also noticeable in spas is the genre of music. Some of us sooth their nerves with jazz, others with blues or RnB. Choose the type of music you like.
4- Check the water temperature: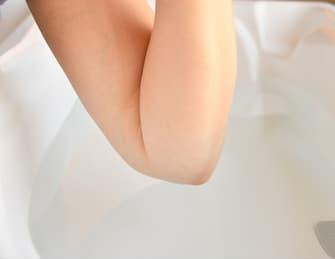 The best water temperature for your bath is around 37 degrees. Don't use your fingers to test it. Use your wrist.
5- Scent:
Don't underestimate the power of the scent around you when your eyes are closed and your nerves are at ease. Scented candles would do the job. You can choose scented salts too.
6- Salts: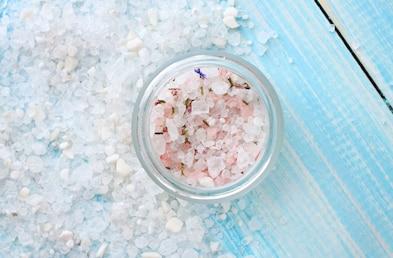 Scented or unscented, it doesn't matter, choose whatever suits your taste. Exfoliate with Epsom salts which are usually perfect for calming your muscles. To stop your skin from itching, use dead sea salt. You can make your DIY salts at home, be creative.
7- Bubbles:
For me, what's a bath without bubbles? It's your choice. Personally, I like bubbles in my hot bath. Bubbles are calming when touching your skin, it relaxes my muscles. And it's always fun to break it out. Pour soap into the rushing water and enjoy watching the bubbles grow.
All you need are those simples ingredients for bubbles: Any kind of soap (dish soap or shampoo), Glycerin liquid or essential oils, and water. Or you can simply use shower soap like I do.
8- Essential oils: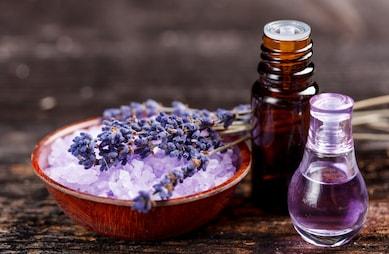 What I like in my bath is the scent, it alleviates my mood. All I need to do is add few drops of lavender oils, it helps me fall asleep easier. Jasmine, rose and iris are other interesting essential oils.
9- Entertain yourself: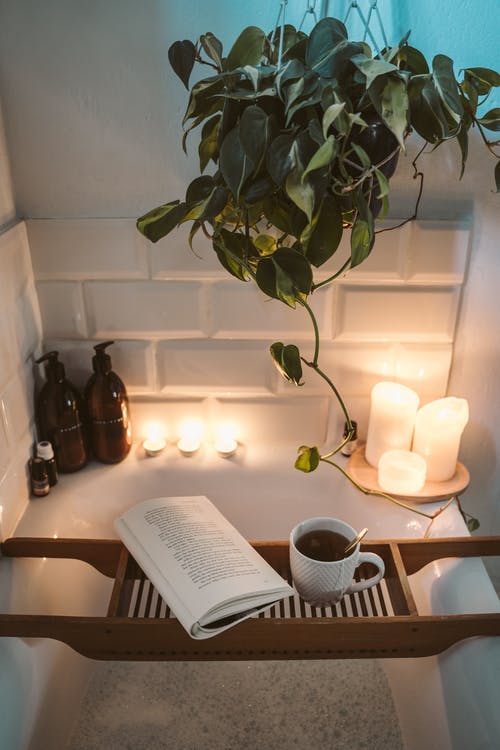 If you're a vagabond, you have several entertainment options. Mine is Netflix, wow, heaven for me when I relax in a hot bathtub watching my favorite movie (iPad fixed on a bath caddy or a small table) . Another option is reading a book or a magazine of your choice. Expect it to get wet, but it's ok, you can dry it once you're out of water.
10- Keep a bowl of ice around:
Warm water dries your skin. Refresh your face to save it from dryness. Dip a towel in the bowl of ice and rub your neck and face with it.
11- Facial mask treatment:
Don't forget the facial mask to get rid of your dead skin. Perfect time to keep it for a while on your face when you're lying still in the warm scented water. Keep a warm face towel next to you to wash your face with. The difference before and after is amazing!
12- Don't forget the drink and the snacks:
Choosing the right beverage or drink for a comfortable bath must be on top of your list. Wine, (white or red) or champagne is the best choice with soft or jazz music. Some fresh fruits for such ambiance is the perfect snack.
13- What about the hair:
If you don't want to soak your hair, use a plastic cap or wrap your hair with a towel to keep it dry.
14- Spa pillow: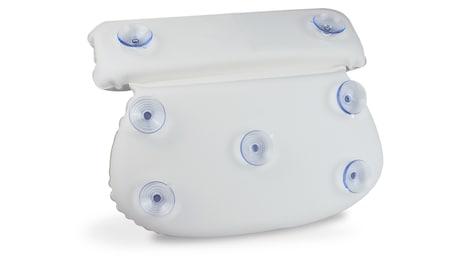 To avoid neck spasm, your best friend is a luxury spa bath pillow that transforms your bath into a cozy and warm spa experience. Make sure to press it firmly on the tub to avoid slipping in water if you fall asleep.
15- Scrub:
Take advantage of your soft skin after the hot bath, and give yourself a good body scrub to get rid of dead skin. You can choose a DIY scrub or a recommended brand. Make sure it contains coconut or caffeine (cocoa or coffee).
16- Dry well: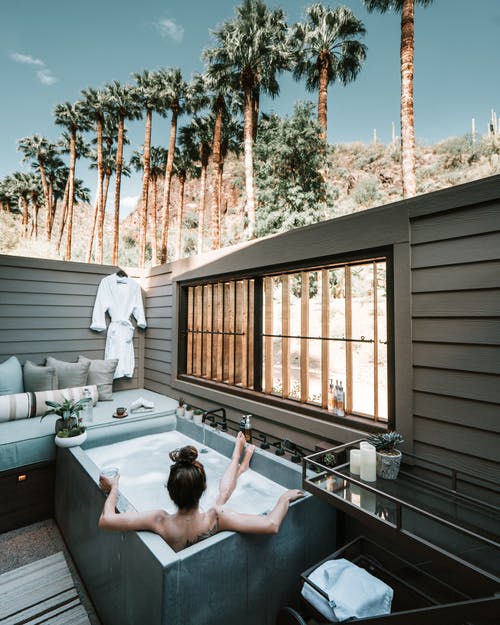 Don't underestimate the clean fluffy bathrobe effect. Before getting into the tub, make sure your fuzzy towel and fresh bathrobe are close to your reach when you're through with your luxury treatment. It's time for the cream, dry yourself out… very well.
17- Hydrate with moisturizing cream: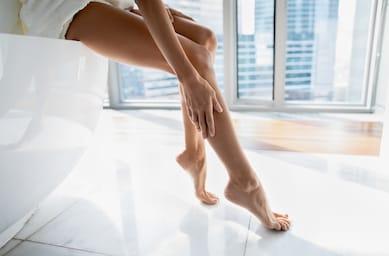 Hot water usually dehydrates your skin. Make sure to moisturize it after drying well. Oils are also useful hydrates after bath soaks. Say goodbye to the cracks for few days.
18- Enjoy a hot beverage, preferably herbal tea: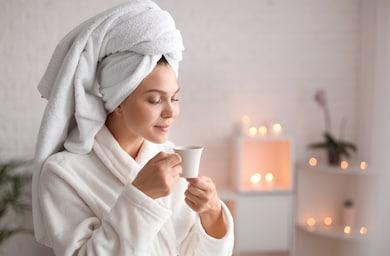 After your warm bath, a herbal tea completes your detoxification process, calms the muscles and prepares you for bed. Chamomile, lavender, thyme, peppermint and rosemary are one of the best aromatic teas for such occasions. My favorite is Chamomile.
Warm baths usually cool you down, thus, having it an hour or two before bedtime can help you fall asleep quicker. It's related to the difference in temperature. Your body is warm in the tub, and cools down when you get out of it. This difference in temperature comforts your tense muscles and triggers sleepiness. Don't seek bath soaks unless you have enough time.
Regarding slices of fruits and flower petals in the water, well I'm a practical woman, I love bubble baths but I don't think I'll ever try those.
An advice, when you indulge in some bathtub bliss, make sure to keep your hands out of the water for two reasons:
To prevent wrinkly fingers
To keep your nail polish fresh. Who would want to end up with faded/peeled off nail polish especially after a mani treatment (hot water effect).
Enjoy your bath!