Beauty & Happiness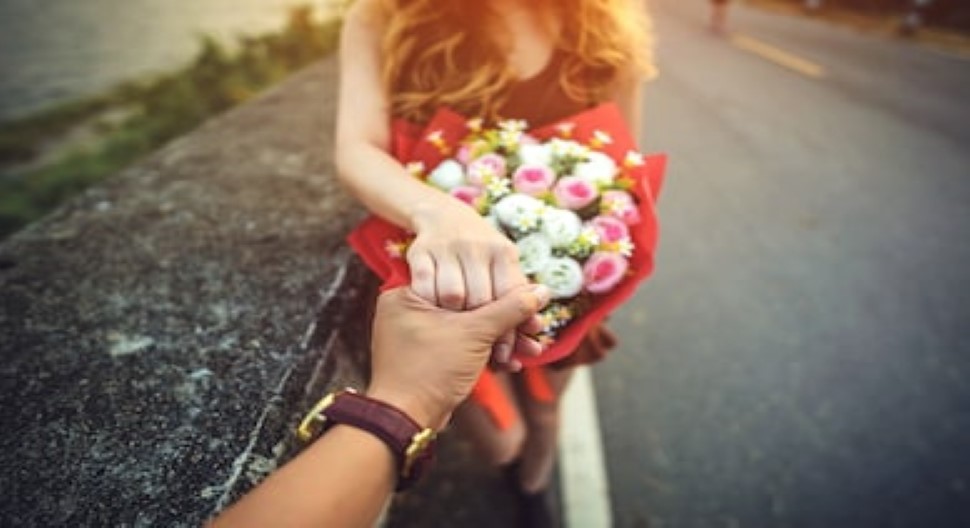 The Meaning of Colors: Best Flower for all Occasions
Consider me "old school", but I still believe that the first date can always start with my rendezvous knocking at my door with one or a dozen of flowers in his hands saying "I'm delighted to be with you." Flowers always make a good first impression. Women spend hours choosing the right attire and wearing the proper makeup. They would much appreciate a romantic and traditional anticipation from their date.
Men should know the meaning of color before buying the flower. You wouldn't want to be misinterpreted. Don't worry, some colors send neutral signals if you're on a blind date. On the other hand, the woman should know what are her date's intentions the moment he lays his foot on her porch.
Roses on a first date are a good idea, whether you're the traditional romantic type or the modern elegant who likes to be uniquely treated. Whatever is the kind of flower, the woman appreciates it. But remember, color matters.
What does the color of your rose symbolize:
RED ROSE
Symbol: Passion – Romance – Beauty – Desire.
Message: I'm serious about finding love and ready for commitment whenever you are. I admire you. I respect you.
Here I am revealing my true feelings if you're not yet aware of it. It's the celebration of deep feelings of love and passion, and I'm not afraid of showing it. A single red rose is a sign of loyalty. A dozen bouquet is the traditional way of saying "I love you".
Your date is traditional in nature, romantic and passionate.
Occasion: Romantic occasions: Valentine's day – Wedding anniversary – A declaration of love.
Not suitable for first dates. It's not frequent getting red roses unless it's been a while you've had your eye on her; You'll be jumping right to the "confession of love".
BURGUNDY ROSE
Symbol: Unconscious beauty – Deeper passion
Message: A very deep passion, deeper than the red hue, more like the Cabernet deep shade rose.
Your date is not as traditional as the classic red rose, but deep and elegant.
Occasion: Valentine's day – Romantic events – wedding bouquet.
"The rose speaks of love silently, in a language known only to the heart"
WHITE ROSE
Symbol: Peace – Purity – freedom – Innocence – Youth – A new beginning – An everlasting love.
Message: Aiming for marriage… someday.
Your date is the serious type who knows what he wants.
Occasion: Wedding – Funeral (new beginning) – Baptism – Get well soon – Spiritual events.
Getting white roses for your first date is not a good idea… too early. You'd better hold your grips. She will freak out. Unless you've been together for a while, proposing is an option.
RED AND WHITE ROSES
Symbol: Combining red and white flowers together symbolize unity.
Occasion: Weddings – Celebration of partnership.
YELLOW ROSE
Symbol: In old times, it symbolized jealousy and disloyalty. In modern times, it symbolizes platonic friendship, joy, care and motivation.
Message: You are my platonic friend. No romance in the air.
Occasion: Congratulations to a close friend – Get well soon – Engagement – A new baby – Friendship support.
"Some people only hate you because of the way other people love you"
In all cases, sending yellow roses to someone on the first date may not be the right move. I would be terrified if my date shows me jealousy (although I like him to be jealous over me) on our first date. Or worse than that, is he friend zoning me?? I would shut the door in his face; I'm not going out because I need more friends!
YELLOW ROSE WITH RED ENDS
If you're having feelings for your friend, yellow roses with red tips are the best way to show her you're falling in love with her.
PINK ROSE
Symbol: Admiration – Elegance – Charm – Happiness – Innocence.
Lighter pink roses denote sweetness and charm.
Deeper pink roses reveal gratitude.
Message: Mild emotions – Appreciation of your presence in his life.
Occasion: The most flexible color among roses, it can be used for almost any occasion. A gentle confession of a new romance – Congratulations – Cheer up – Thank you
ORANGE ROSE
Symbol: Passion – Energy – Attraction – Desire – Charm – Attraction
Message: Feeling of lust, before the "I love you" words pop up.
Occasion: A romantic declaration – Anniversaries – Can be used for wedding decoration.
PEACH ROSE
Symbol: Modesty – Honesty – Gentleness – Sympathy – Gratitude
Message: Appreciation – Thankful – Admiration
Occasion: Thank someone who rendered you a service – Close a deal or an agreement – Sympathy to someone in mourning – Wedding decoration.
Pale peach roses signify modesty.
SALMON/CORAL ROSE
Symbol: Excitement – Eagerness
Message: I desire to know you better, get closer to you.
Occasion: Good for growing relationships.
BLUE ROSE
Blue roses are not natural . The color is artificial.
Symbol: Mystery – Fascination
Message: Attaining the impossible
Occasion: From a secret admirer.
PURPLE ROSE
Symbol: Intrigue – Magic – Mystic – Royal
Message: Love at first sight
Occasion: Romantic situations – Feeling of royalty for someone.
LAVENDER ROSE
Not to be confused with purple roses (which would signify royalty), lavender roses express love at first sight or enchantment.
Symbol: Charm – Romance
Message: Love at first sight
Occasion: To someone you always see and want to reveal your admiration for.
BLACK ROSE
This color is also not found in nature. It's artificially dyed.
Symbol: Death – New beginning- Au revoir – Mystery – Goth
Message: It's officially over!
Occasion: Funeral – To someone you wish to reveal your disgust for; Your date who ghosted you – A friend who betrayed you.
GREEN ROSE
Symbol: Renewal – Lavish growth – Joy – Fertility – Peace
Message: It's time for a fresh start – Revival of the spirit
Occasion: Baptism – Any spiritual event – Funeral – New parents
MIXED ROSES
Mixed roses can never be a way to say "I love you!" Mixing all colors together makes a joyful and festive bouquet. You have to know which colors to put together. But it's the best bouquet you can take with you or send on your first date.
Whether a rose is natural or artificial in color, with all the thorns, it's full of beauty and meaning.