Happy Holidays
What to Cook for Christmas!
Traditional Meals from Around the World
Christmas is an international holiday celebrated around the world, no argument about that. But Christmas dinners look differently in various countries following their traditional Christmas dishes presented at the Christmas table or else, the holidays wouldn't be complete.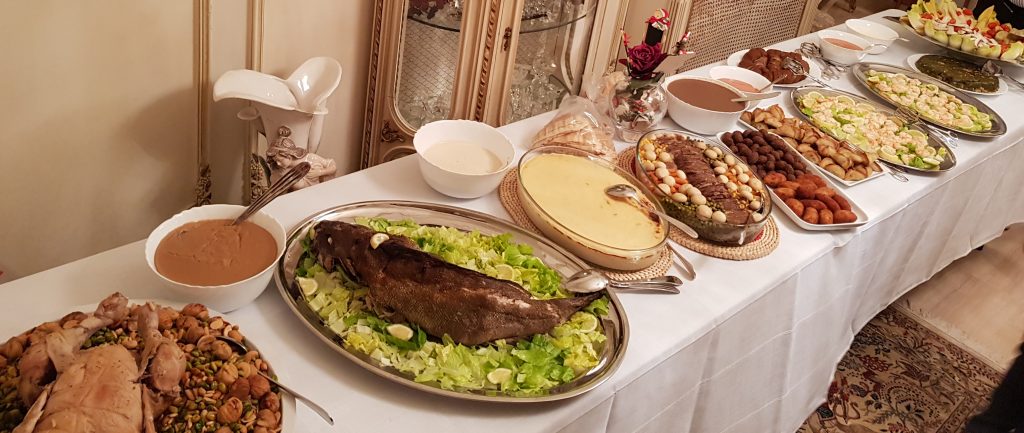 Food is an important part of the season wherever you are celebrating. Women start preparing food two weeks before Christmas eve, maybe even before. I know that from my Mom. On the last week of November, she started getting ready for Christmas eve dinner by cooking and storing in the fridge. The main dish is prepared the same day, but the ingredients are all ready and well preserved from now.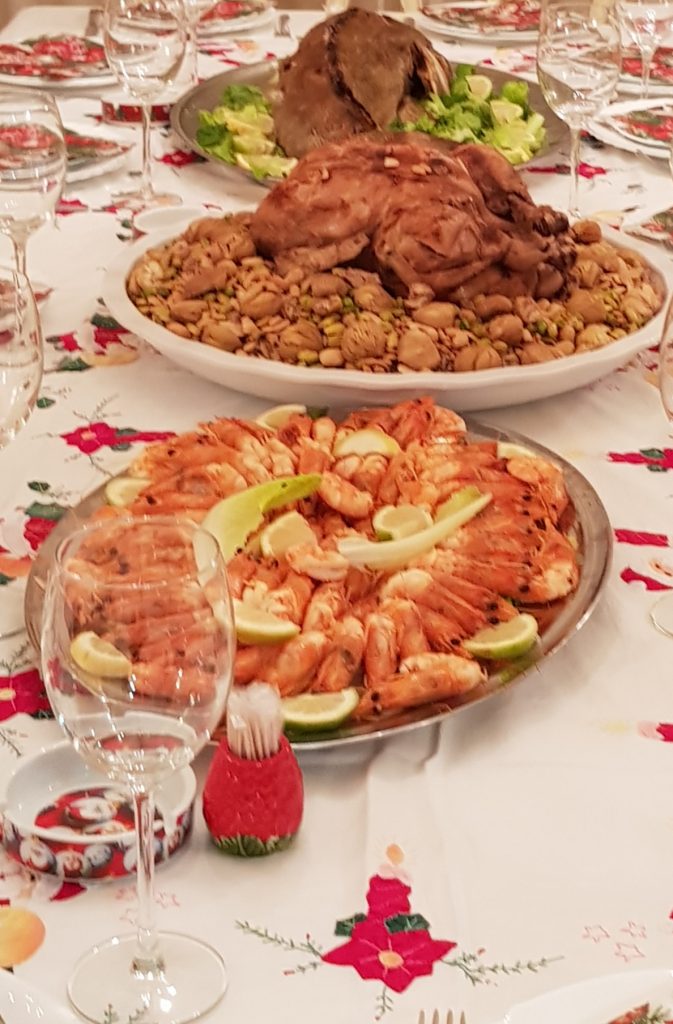 Although most of the food we cook for Christmas dinner is also cooked throughout the year – excluding the main dish as it is presented only on Christmas eve – every dish tastes differently on this special night. Maybe because we are gathered around loved ones, we enjoy the food more than ever. I will give you a brief idea about our yearly Christmas menu which is set on a buffet table as we are one big family (Thankful for that). You will notice that it's from various cuisines – Mediterranean, French, Italian, and more:
Starters: Two kinds of salads (preferably with a light sauce to keep a place in our stomach for the main course)
– Panache Salad and Parmesan Rocca Salad.
– Stuffed Swiss Chard Leaves with olive oil.

– Hummus or mashed eggplants.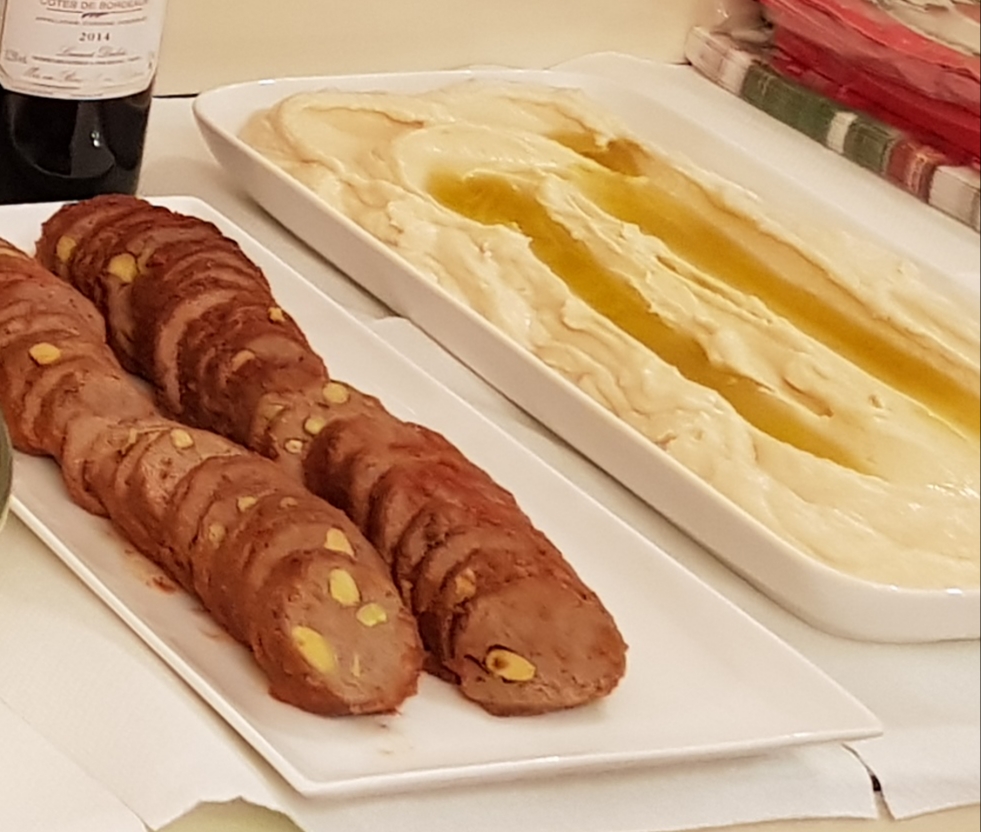 – Grilled Shrimps with cocktail sauce.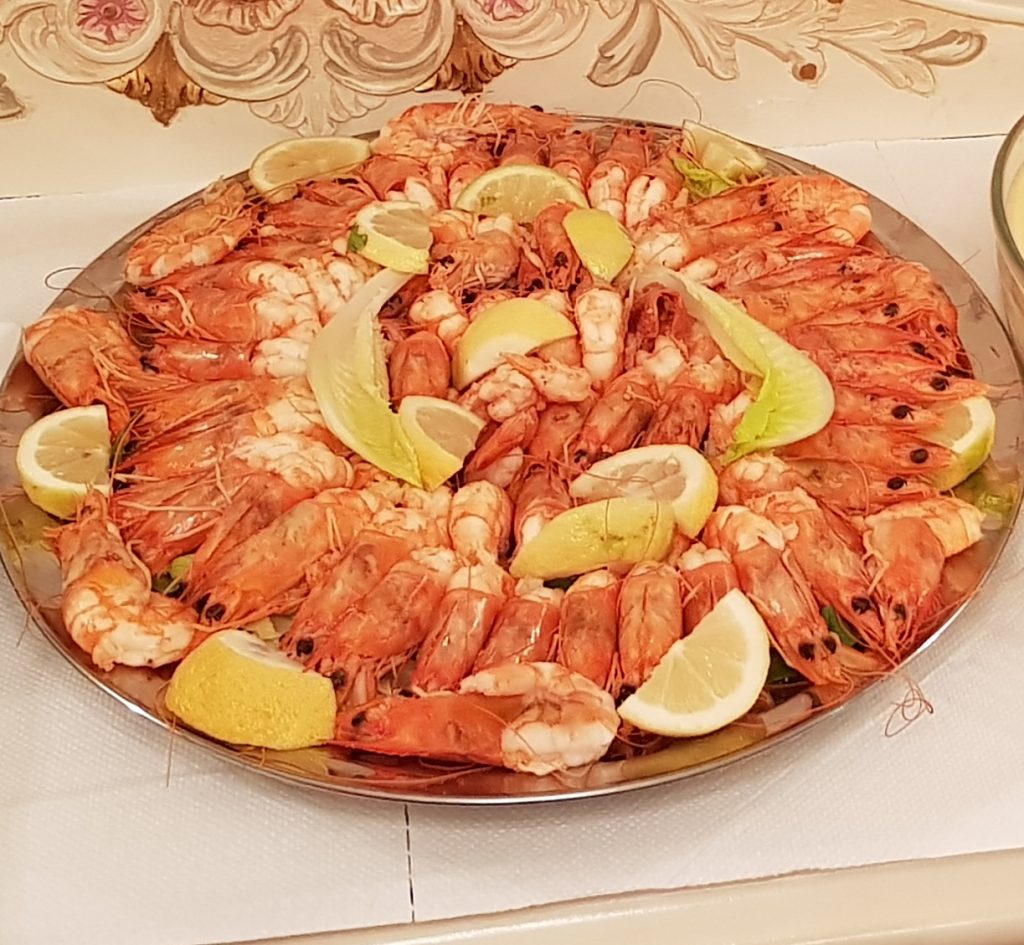 Amuse-bouche: These are small bites which we love nibbling on before taking our plates to the table.
– Four or five kinds of fried or oven baked meat, cheese and spinach pastry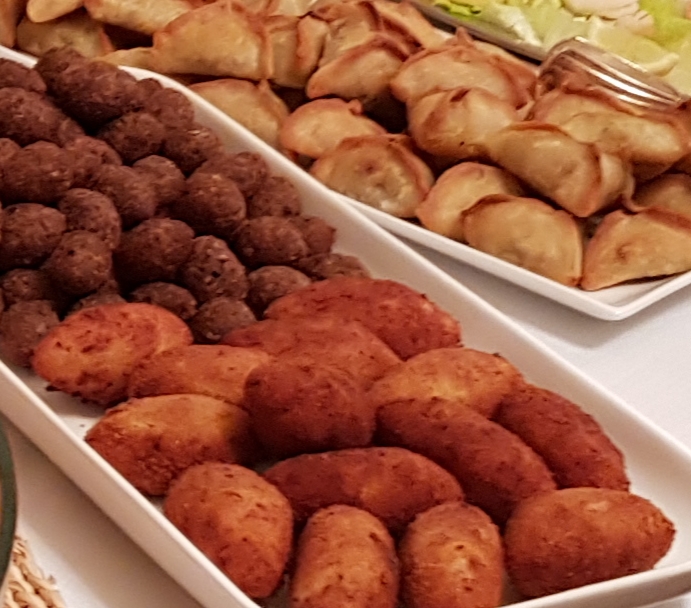 – We love small Ham and Cheese Pizza bites, so this year, we asked Mom to make some on one condition that we will make it to the main course.
– You can always make some Nouilles (without chicken) for the kids; not all kids enjoy Christmas main dishes. They prefer pasta. (who doesn't?!)
Christmas Main Dish #1: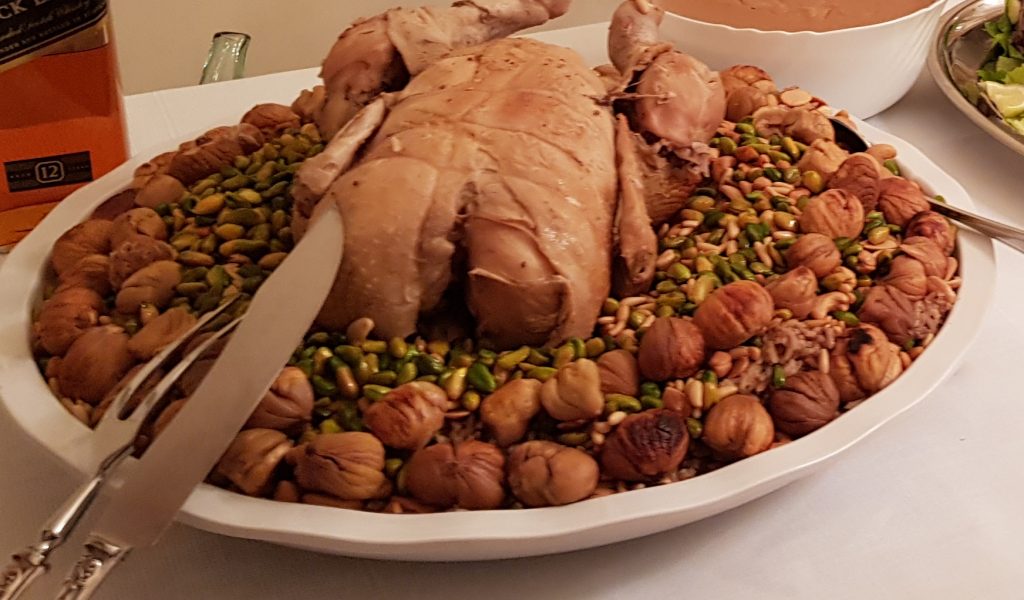 Roasted Turkey , White spiced up Rice and Ground Beef mixed together on the side, Grilled Chestnuts and various kinds of nuts on top. This is the traditional dish for Christmas eve.
Main Dish #2: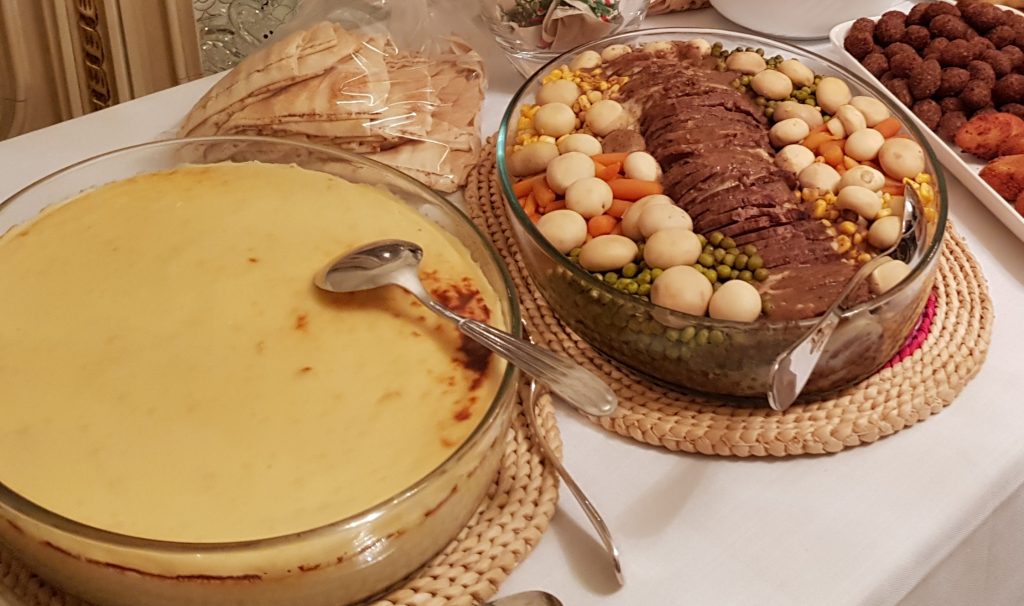 Classic French Mashed Potatoes (Purée) with Beef Brown Gravy surrounded by a spicy brown thick sauce and cooked vegetables – peas, carrots, corn, asparagus, and raw mushroom (you can add or eliminate depending on your taste).
Main Dish #3: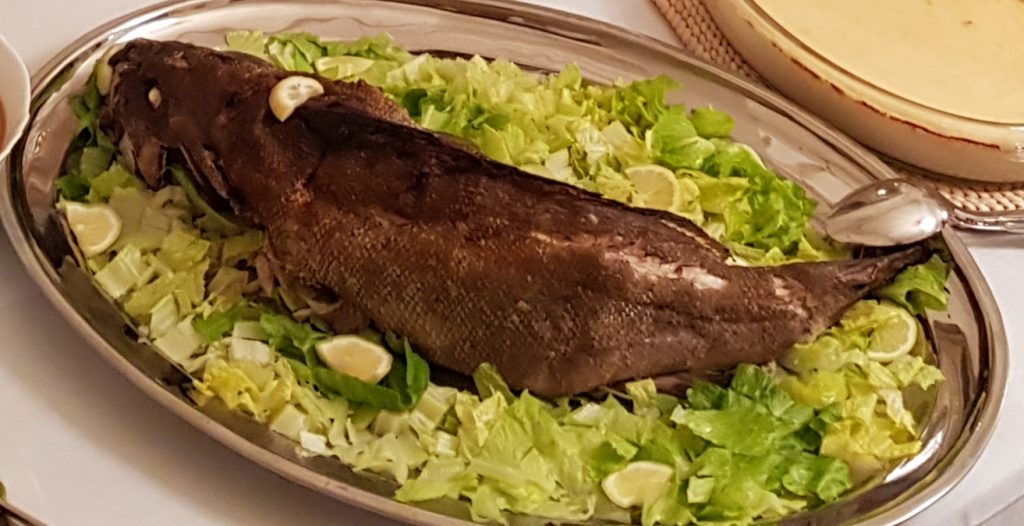 One large Grilled Fish with its special lemony sauce; It can be replaced by Paella. We prefer the Grilled Fish every year.
Optional dish #4: Roast beef with spicy rice and a platter of grilled or baked vegetables.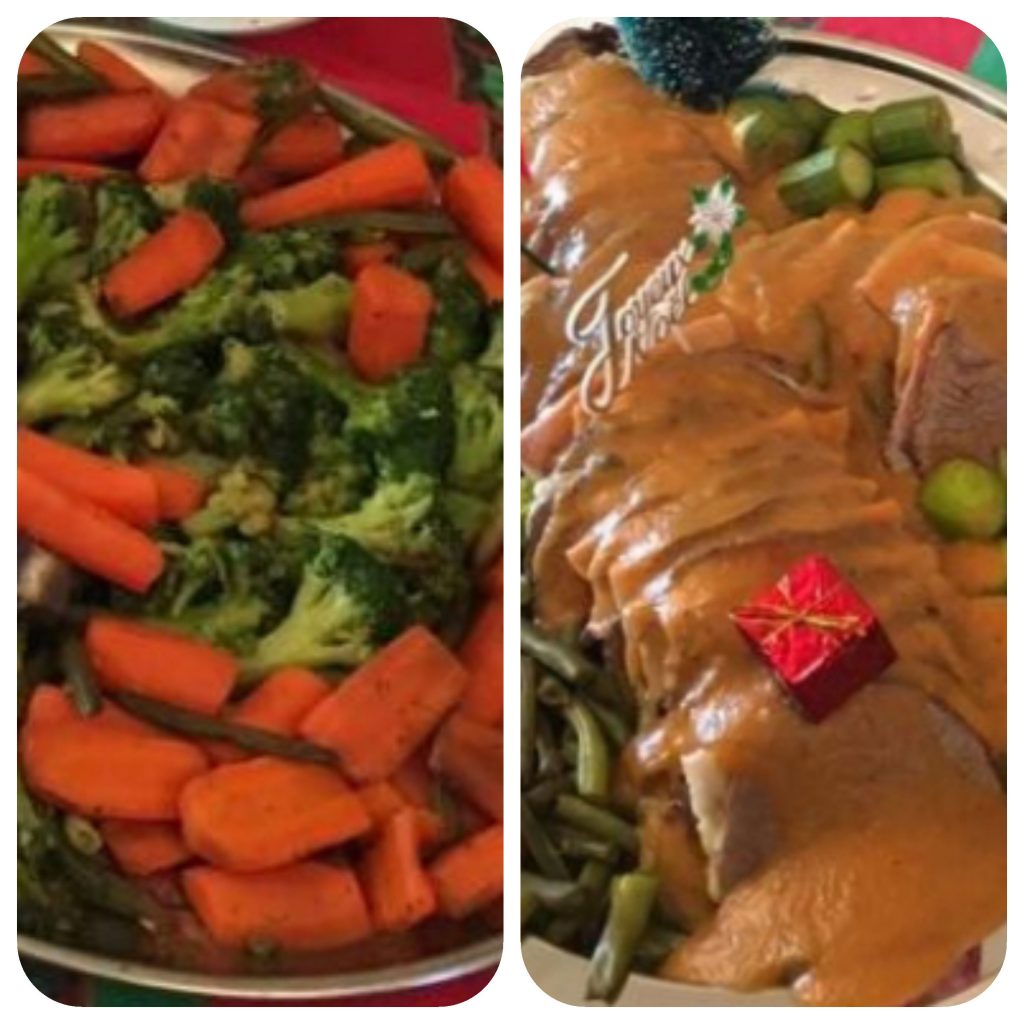 Dessert: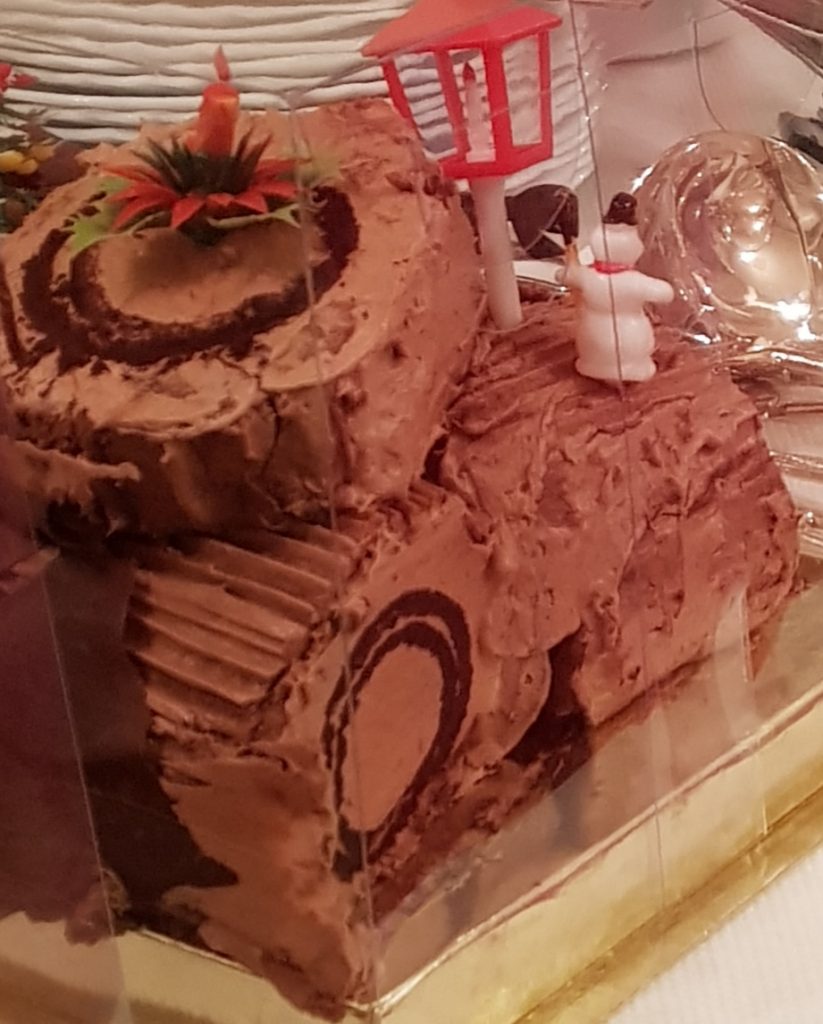 Bûche de Noël – the French name of the traditional Christmas dessert (Yule Log, with Christmas decoration) We get two, one made of white chocolate and the other made of milk or dark chocolate. You can put any other dessert your family likes, but the traditional one is always present at the table at the end of the meal.
As you can see, lots of food to consume. We always try to keep our appetite going for dessert.
AUSTRALIA/NEW ZEALAND:
AUSTRIA:
ARGENTINA:
ARMENIA:
BOSTWANA:
BRAZIL:
"I'm dreaming of a white Christmas…. but if the white runs out, I'll drink the red"
CZECH REPUBLIC:
CHILE:
COLOMBIA:
CUBA:
CROATIA:
DENMARK:
DOMINICA:
ETHIOPIA:
ESTONIA:
FRANCE:
FINLAND:
The four main food groups: Candy, candy canes, candy corn and syrup.
GERMANY:
GREECE:
GREENLAND:
GHANA:
HUNGARY:
ITALY (Southern):
IRELAND:
ICELAND:
INDIA:
JAPAN:
JAMAICA:
LITHIANIA:
The fondest memories are made gathered around the table.
LATVIA:
Smoked meat served with potato, sauerkraut and pickled vegetables
MACEDONIA: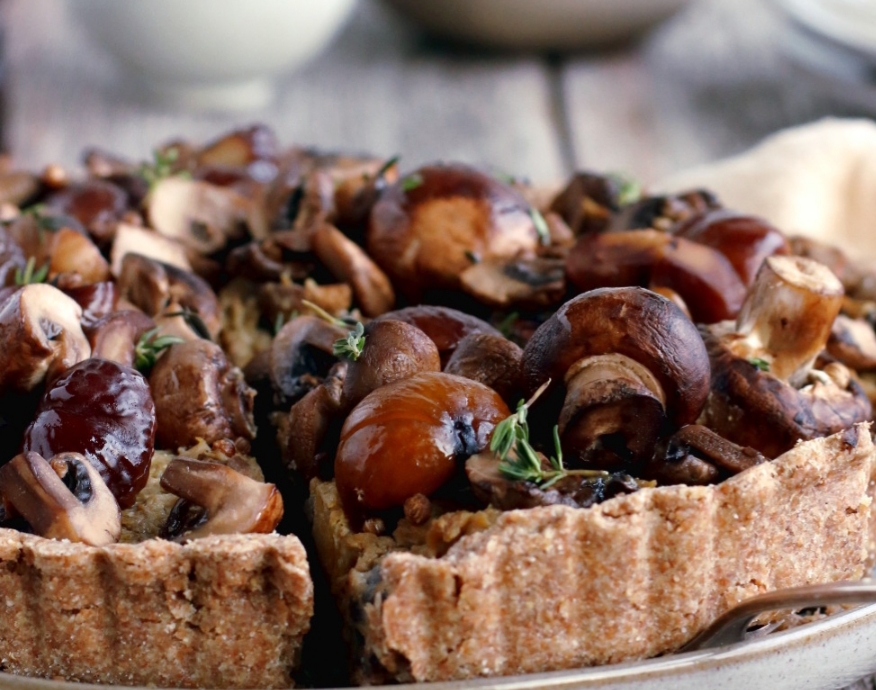 Beans, dates, leek pie, boiled chestnuts, and bread
MONTENEGRO:
MEXICO:
NORWAY:
NETHERLANDS:
PUERTO RICO:
POLAND:
PERU:
THE PHILIPPINES:
PORTUGAL:
ROMANIA:
RUSSIA:
SPAIN:
SERBIA:
SWEDEN:
UNITED KINGDOM:
UKRAINE:
UNTED STATES:
VENEZUELA:
Hallaca (corn dough stuffed with a stew of beef, pork, or chicken)
All I want for Chritsmas is You… And Pizza, but you too.
Writing this blog made me gain a few calories by just typing the words. But who cares about this now!? After all, Christmas brings families and friends together over one table to celebrate this holiday season which we all wait for throughout the year.
It's Christmas time yeyy.